What is SnoreCoach?
SnoreCoach is a wireless sleep position coach. It connects via Bluetooth to the SnoreTrack app — free to download for iOS and Android — to track your sleep and help you stop snoring.
Did You Know...
...that snoring most commonly occurs while you sleep on your back? It is the sleep position in which your relaxed mouth and throat muscles tend to cause the greatest restriction to your airway.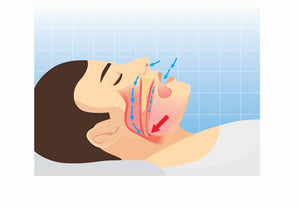 SnoreCoach instructs you to improve your sleep position when it detects your snore patterns, substantially reducing or eliminating most instances of snoring.
No More Elbowing
SnoreCoach takes the place of a sleep partner who elbows a snorer or does a "face-push" trying to get their partner to roll over and stop snoring.
Gain Back Hours of Your Life
Sleep is a vital component of your everyday life and wellbeing. See how SnoreCoach and SnoreTrack can help you get your best sleep....and live your best life when you're awake.
Learn More
How It Works
Stopping snoring can be
easy and comfortable.
With SnoreCoach, your nightly routine is a snap.
Shake to Activate
Give SnoreCoach a quick shake to turn it on and clip it to the back of your shirt collar. You're ready for sleep in seconds!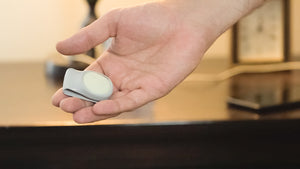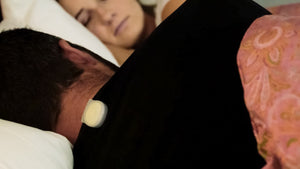 Listens While You Sleep
The SnoreTrack app uses your phone's microphone to monitor your sleep. It sends signals back and forth with SnoreCoach throughout the night, tracking and recording notable sleep events.
Alerts You to Roll Over When You Snore
If snoring is detected, SnoreCoach delivers a moderate buzz...just enough to tell you to change positions.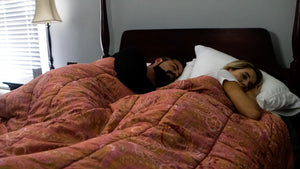 Within nights, users no longer know that they were "buzzed", rolled over, and stopped snoring.


Sleep Partners Are Relieved
Watch our video from AMC's NewsWatch
See what our customers are saying
We Have Happy Users Around the World
SnoreTrack
Sleep Tracking App
Begin tracking your sleep now with our free app, SnoreTrack. It
delivers insight into your sleep,
identifying potential issues. Working alongside SnoreCoach, it helps you stop snoring and get your best sleep yet.
Keep An Eye On Your Sleep Stats
SnoreTrack lets you check out your sleep stats from the night before. Or track your sleep trends over weeks, months, and years.
You can review:
When you snored and when SnoreCoach helped you stop
Movements and changes in sleep position throughout the night
Possible sleep disturbances
Playbacks of your snores from the previous night
How your sleep has progressed over time
See More Information
*Certain SnoreTrack features only work when paired with SnoreCoach device.
Download for free in the App Store or Google Play
, and start tracking tonight!
Get It Now